So you want to be a runner?
I feel you! Actually, I have already proclaimed myself to be a runner. I was consistanly running up until about a year ago. It's crazy how "life happens" and you find yourself at square one. So, I decided to put together a challenge that will get me gradually back on the pavement. Let's get started with Couch 2 5K!
Welcome to the #RunningForMyLife Challenge - #C25K Edition!
This will be the simplest challenge you will ever complete. All you have to do is download the C25K App and follow the instructions. The program lasts 8 weeks, and by the end of those 8 weeks you should be able to run a 5K. Don't want to run? No worries. Keep reading!
As with any #RunningForMyLife Challenge, I ask of you the following things:
Set your mind to succeed - Everyday, we lose sight of the things that we want to accomplish in life because we are constantly dealing with "life". If you wake up everyday and remind yourself that success is within reach and that you are willing and able to do whatever it takes to achieve it, YOU WILL SUCCEED!
Lose the excuses - "Excuses are tools of incompetence used to build monuments of nothingness and those who dwell in them seldom accomplish anything..." Now I don't know how many of you had to learn that statement, or a variation of it, at some point in your life, but what I do know is that there are no lies told within it. Am I primarily talking to myself with this point? Absolutely. But I want you all to know and understand that excuses will get you nowhere. Let's be prepared to set them aside and work on us!
Believe in yourself without the expectation of others believing in you - You are the ONLY person that can dream, plan, execute, and succeed in goals that you set for yourself. The only way to do this is to believe in yourself. Now, it is great that other people believe in you. Hell, I believe in you. But what exactly does that mean? I can cheer you on. I can give you daily motivational quotes. I can record podcasts for you to listen to while you execute this challenge. But I can't do it for you. I can't believe in you for you. You have to do that yourself.
Here is a peek at my plan: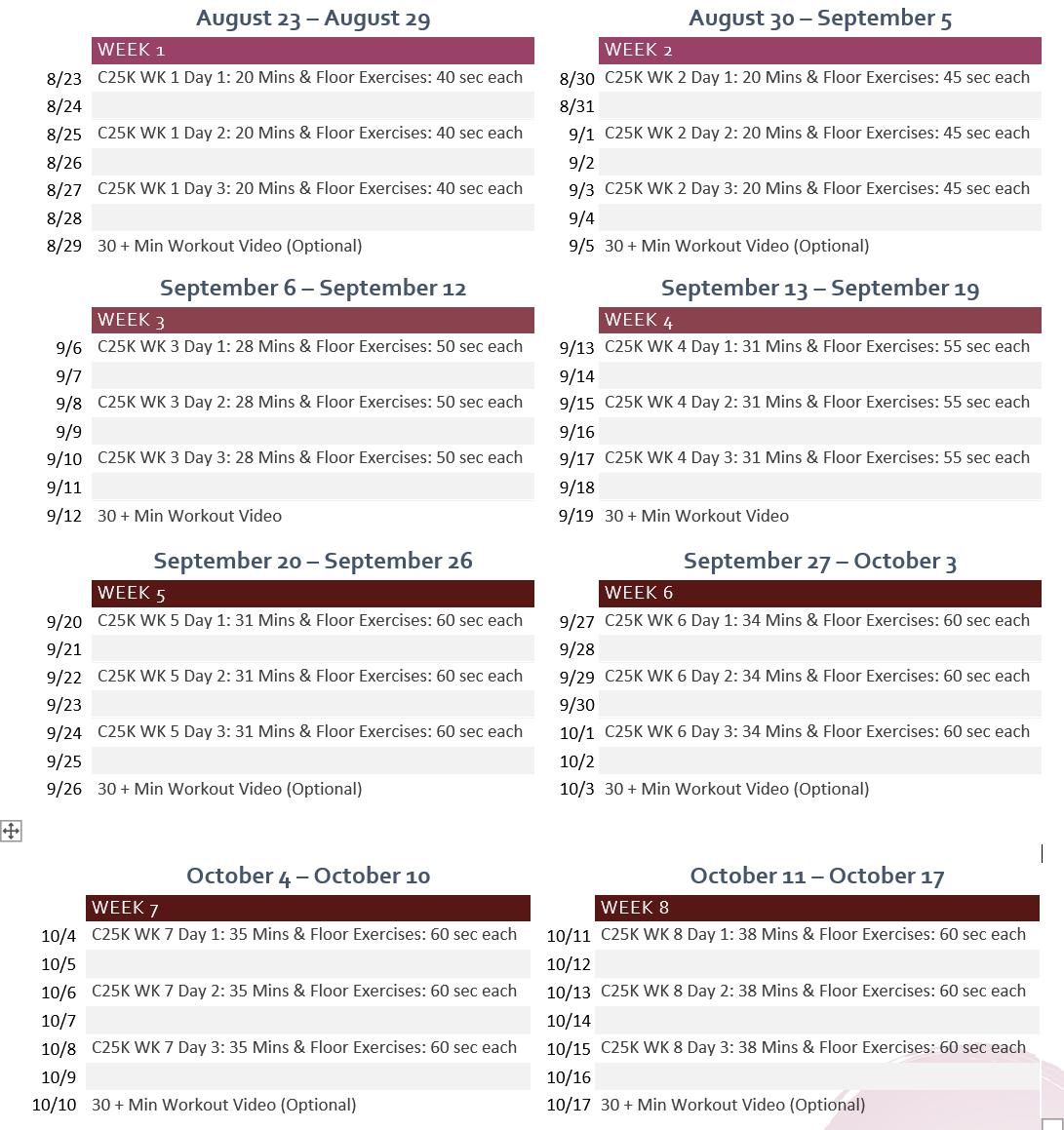 Don't want to participate in C25K? Cool...this section is for you!
The alternative to the C25K challenge is made up of a few different aspects in an effort to cater to all who would like to join. Here are the basics:
You can walk.
You can do yoga.
You can do HIIT.
You can get on the stationary bike.
If you are not comfy going to the gym, I get it! Most of them are giving out access to online home videos. Take advantage of them!
You can do other workout videos at home such as Leslie Sansone walking videos or PopSugar and HASfit workouts. They are all effective!
You can hit the weights.
Anything that promotes fitness...take 30 minutes and do it!
A few more suggestions:
If the sun is shining, PLEASE take advantage of it!

Take those allergy meds every day along with your vitamins. These things will help guard you from everything that's going around right now.
If your gym is still open and you would rather go there to work out, PLEASE take the necessary precautions and WIPE EVERYTHING DOWN! Even if its a gym in your apartment building or a small private gym. Do what you need to do to say safe.
If you plan on working out anywhere around anyone that does not live in your home, PLEASE wear a mask!
To get us all through this challenge, I am dedicated to providing accountability check-ins via Twitter, Facebook, and Instagram (yes, I am on a small hiatus but please still tag me in your workouts with the hashtag #R4MLC25K. I will be following this hashtag on all platforms and will gladly pull up on your post to lend some encouragement!
Last but not least, here are a few apps that could help you along with this challenge (yes, another bullet point list):
Fitbit - If you already have a Fitbit, great. You can hit me up for my credentials and add me as a friend. You can also, from what I understand, download the app and use it in conjunction with your phone to record your steps without actually having the device.
Apple Watch and/or other fitness trackers - Any fitness tracker will do. They all have great software that will record your fitness efforts.
Other apps - Runkeeper, Nike Run Club, are just a few apps that will record your efforts without a fitness tracker. If you need help finding one, or would like my opinion on what works best, feel free to reach out and I will gladly help. You can find me on most of these apps @autumnthearies! Let's connect!!
The challenge starts Sunday, August 23rd, and will run through Saturday, October 17th! A solid 8 weeks! We can get some real transformation going on during that time! I want to see social posts, videos, boomerangs, EVERYTHING! Don't forget the hashtags! Let your mental, physical, and even spiritual journey begin here. I can't wait to hear your success stories! Let's Go!
#RunningForMyLife
-AtA